Jul 28 2017 in adventures, advocacy, Life and art by vandy
I usually stick to art and adventures in my blog posts, but right now I am HUGELY inspired by a friend and her daughter and their adventures in Washington DC.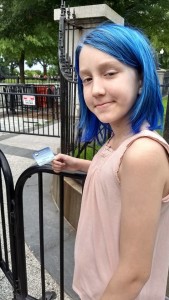 This is Blue. Blue is an eleven year old transgender American girl, currently living with her family where they are stationed in Germany. Blue has been out publicly as transgender female since last August, and she has been saying she would be "a girl when she grew up" since first being able to speak. Blue's mom, Jessica Girven, has been amazingly supportive and a huge advocate for Blue. Because of the current political situation, it became clear that in order to get the hormone blockers Blue needs in order to be herself, they were going to have to come back to the United States for medical care, and around a month ago Jessica organized a gofundme campaign to cover their airfare to come see a doctor who had agreed to treat Blue. The gofundme campaign was a huge success, and they managed to arrive in Washington at just the right time.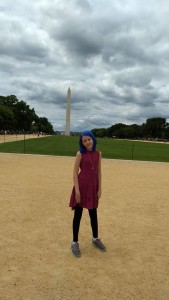 In addition to getting medical care, Blue and Jessica are spending several advocacy days visiting representatives, senators, touring the capitol, and meeting with various advocacy groups. It couldn't come at a better time. They were literally on a tour of the capitol building when they heard the news about Trump's tweet banning transgender people from serving in the US Military. Jessica posted, "I had to stop the tour, I lost my words I was furious and scared and wanted to cry and puke. The nice staffer tried to give us hope but was very understanding."
That was yesterday, Wednesday, July 26th. A day Jessica describes as, "The most insane day of my life."  Blue and Jessica visited Senator Udall of New Mexico during a constituents coffee. Blue got to meet and speak to the Senator, to tell her story. Then they visited the offices Senator Heinrich. His staff listened and asked a dozen questions and talked about a plan of attack. After the visit, they went on a personal tour of the capitol building. Next Blue and Jessica met with the Republican representative from her husband's home district, Representative Pearce. His staffer listened to them and agreed that their treatment was not right. Jessica posted, "I don't know what will come of that but he did promise to speak with Representative Pearce and tell him Blue's story."
Blue's story goes beyond just the need for puberty blockers and appropriate health care. Part of the story Blue and her mother have been sharing is the saga of coming out at a school on a military base. At first Blue's school was very supportive. They allowed her to use the girls' restroom, and they purchased books such as ,"I am Jazz," and ,"Red: A Crayon's Story," to help explain her non binary gender. When the school superintendent found out, the school was ordered not to allow the books and to not allow Blue to use the girls' restroom. In order to use the restroom, rather than using the restroom next to her class, Blue had to go down 3 flights of stairs, leave the building, cross a courtyard, and enter another building. After that decision, Blue, who is 11, decided to hold it all day, rather than go use a different restroom, putting her health at risk. This story initially got a lot of attention from various advocacy groups and was instrumental in getting the then Secretary of Defense to change the policy at military schools. Unfortunately, because of political change over, that change lasted for only three months.
Blue and Representative Joe Kennedy III
Because the meeting with Representative Pearce's office was short, they went to their next appointment, at the office of Representative Joe Kennedy lll, early. Which turned out to be a piece of great luck. Jessica describes their visit:
" …in walks Joe and asks us to join him in his office to talk. And we REALLY talked. He had strategies and people he wanted to introduce Blue to. He was late for a vote on the floor of the house. He asked Omi and I wait outside the chamber and he walked Blue onto the floor of the House of Representatives. He asked Blue to do the honor and do the actual Vote. She voted no. Then Joe Kennedy lll walked Blue around and introduced her to the members of the armed services committee. He told them her story and told them if they take away Transgender military medicine they are taking HER healthcare away.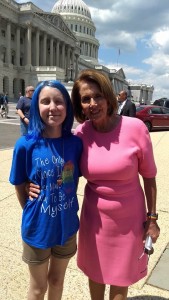 Blue & Nancy Pelosi
We then walked with him to the Press conference and introduced Blue and myself. Then to our shock Nancy Pelosi thanked Blue and called her name. She then came and talked to me for a good 15 to 20 minutes. She asked for a photo with Blue. WOW!!"
This is advocacy at it's finest people. While it's easy to be detached when you aren't directly involved with situations, knowing real people, and their stories, and seeing a wonderful girl who would be denied health care, makes a HUGE difference. Blue and Jessica have had an amazing opportunity to directly impact people and policies with real world examples and their story.
Blue at the protest
Jessica went on to say:
"We met and spoke to soooo many Senators and Representatives I can't remember their names but I have their business cards. We had a short break then and met up with our friend Amanda and her daughter Jenn.  Jenn is just like Blue, it was Amanda who found the doctor here that is treating Blue. They came with us to our last meeting with Representative Michelle Lujan Grisham. We spoke with her at great length long past our scheduled time. She vowed to personally get Blue and our family to a place that will provide both medical care AND access to a supporting school that will respect her and allow her to use the girls bathroom. She even gave my mom and Blue a ride where their tour was to begin. I decided to skip the tour and instead go to the Transgender military ban protest. Amanda and I were asked to speak at the protest and tell our daughter's stories. I surprised myself. I was loud and clear and passionate. And halfway through my speech Blue came running out of the crowd up to me and the crowd burst into applause for her. Their tour had stopped just then at the White house and she decided to get off and join the protest. I watched my baby March and chant and speak to the crowd herself. She was on fire!!! I couldn't be prouder. We did interview after interview today. My speech was filmed and she was filmed protesting. After Amanda dropped us off at our hotel a man walking his dog recognized us from the news. He told us how angry he is about Trump's tweet and thanked Blue for speaking up. "
Blue & Jessica meeting with the Human Rights Campaign
Today Blue and Jessica had a meeting with the Human Rights Campaign, wearing their transgender equality t-shirts. The Human Rights Campaign invited Blue to visit because they wanted to meet her and thank her for her advocacy. There is also a possibility (nothing's certain yet) that Jessica may end up being part of their parents' council. Blue and Jessica have been asked back for a follow up with Senator Udall's office. Jessica has been asked to write 800 words for Teen Vogue. Blue appeared on CNN, and they will have someone from the NY Times following them around for the next couple of days. And one Friday Blue gets her puberty blocker implant.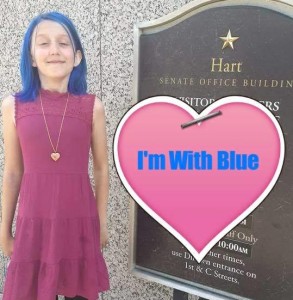 While it seems like there isn't a lot I can do from home, what I *can* do is share and help raise awareness. And so can you! And I also feel like this is a great time to renew my blue hair coloring in honor of one very brave and special girl.